*Don't forget Sports Day this Thursday (26th October) and Pupil Free Day this Friday (27th October)* 🙂
Welcome to Term 4!
Only 9 short weeks to go and then we will be in Year 2! Wow – this year has flown!
This week we've have begun our term focus of Cultural Celebrations from Around the World and we celebrated Diwali by creating beautiful rangoli patterns and mandalas using chalk outside and paper and cellophane. We would like to learn about lots of different celebrations, so if there is an important festival that your family celebrates, please bring in some information and share. We would love books or pictures for our classroom display also.
In Maths we have been focusing on place value (e.g. the value of a digit as determined by its position in a number, relative to the ones (or units) place) especially with two and three digit numbers. You can continue working on this at home by asking your child to write 'big numbers', especially teen numbers. Some students also get confused when writing two digit numbers and instead of '26', will write '206' (e.g. 20 and then 6). Understanding that once you have ten ones (or units) it transfers to the tens column is important for Year 1 learning.
Finally, we must congratulate Amelia Cirami who went over to Thailand in the holidays to compete in the International Abacus Maths Competition. Amelia competed against 400 other students with multiplication sums and received a first place trophy, with a score of 470/500. Congratulations for your achievement Amelia and we loved seeing your trophy and medal this week!
________________________________________________
Geography Inquiry Unit – Environment Explorers
Room 6 have been very busy all term exploring the environment around us and discussing what's natural, constructed and managed. We have also been analysing the positives and negatives of nature play and traditional playgrounds. We interviewed our Year 3 buddy class about what they would like to see at East Marden, as well as voting ourselves. There was overwhelming demand for more nature play at EMPS, so after researching through our nature play incursion and excursion, we are now designing our own nature play spaces for the school. We need to think about appropriate equipment for all year levels, different play spaces (e.g. water play, imaginative play, building play, climbing play etc) and think about the best location for it. We also need to think about who will look after the space and any rules necessary. Please click below to see some of our Inquiry work so far….
Environment Explorers-1bd7bmi   Nature Play Designs-2jc944u
Designing is happening as we speak and we will hopefully be able to show these off next week. We have also been hard at work all term looking at Information Texts in English, and have started to create our own about different animals. We would love to share these with families before term's end – More information to come on this!
Thanks again to the wonderful parent volunteers, Eforia, Swani, Pip and Karina-Michelle who looked after us at last week's excursion – without you we wouldn't have been able to have all the fun, safe play we did. What an amazing day full of risk-taking, persevering, imaginative play, discovering, climbing, sliding, building, swinging, flying and more! Excursions are so much fun!
_________________________________
Science Week
Room 6 had a fantastic time during Science week, sharing different science experiments as well as discussing pollution and how it affects the environment during their Science lesson with Ms. Sage. Thank you to all the families who helped organise interesting experiments!
Assembly Presentation
We did a great job presenting how we use creativity at Assembly last week, well done to all the speakers and presenters! The students and parents particularly enjoyed hearing Room 6 say Hello in Korean and Japanese! What a clever class we are!
Mapping
This week we have been looking at Mapping and exploring the school for Geography and Maths. We looked at a satellite image of East Marden PS and surrounds and then re-built it using blocks, duplo etc. The kids had a ball collaborating as a team and were all engaged. Hands-on activities are so much fun in Year 1!
Open Day
Finally, thank you so much to all the families who made it in to Open Day on Monday, 21st August. Students enjoyed challenging themselves with a STEM activity where we had to build a tower as high as we could, only using toothpicks and marshmallows. Students also enjoyed reading and discussing the story with their big buddies. It is wonderful to see kids and parents working together in the classroom setting and building lifelong memories!
Room 6 are presenting at Assembly Friday 18th August at 11am, if you would like to come along 🙂
Nature Play Incursion
Thankfully, this morning (Fri 11th Aug) the weather held out and we had a beautiful sunny morning for the outdoor Nature Play Incursion! Hayley and Bec from Nature Play SA came and ran three different groups; a building and making area, a fine motor small nature play area and making seed balls. The seed balls have Nasturtium flower seeds in them and are ready to be planted at home! We also enjoyed using our muscles in new ways, like pretending to be animals and having wheelbarrow races. The kids had a fantastic time being creative and imaginative and embracing play-based learning with natural elements. This also helps to build up gross motor and fine motor skills, which are extremely important for both school and home. 
We also talked about the importance of less screen time and more outdoor adventure time with friends and family. Some of the natural places the Room 6 people said they enjoy visiting are; Thornden Park, Morialta Falls, Waterfall Gully, the beach and rivers and creeks. We also watched a fantastic video from Nature Play SA. You can watch it with your family here: https://natureplaysa.org.au/resources/muddy-puddles-painted-sunsets/
Enjoy going outside and playing and getting dirty with your family! 🙂 
Click on pictures below to make them bigger
__________________________________
What is a Place?
As part of our Geography Inquiry learning this term, Room 6 have been discussing places. Thanks to all the families who sent in a photo, picture or writing about students' favourite places; Our display looks amazing!
Last week, we analysed several different places and listed what we saw, think and wondered. Some of the interesting wonder questions were: "I wonder how big the playground is?", "I wonder if the classroom is going to change?" and "I wonder if Ms. Monaco lives in this house?!" There is some great discussion happening around different places and students are engaged in their learning and using various inquiry skills.
On Monday, 31st July, Room 6 was lucky enough to meet SA author, Phil Cummings. We enjoyed listening to his funny stories and he even scared us a little bit too when telling us about a snake in his chook shed! He showed us his draft copies of his books and how much work it takes to get them published. We also enjoyed listening to how he gets inspired with new ideas!
**Finally – the Nature Play Incursion is this Thursday 3rd August. Please ensure children are dressed in appropriate uniform and shoes. Thank you 🙂
_________________________________________________________________________
Welcome to Term 3!
I hope you had a restful break with your family. Please find the Term 3 Planner here: Term 3 Overview parents 2017-1nnv2ya
Please note Premier's Reading Challenge has been completed in class for all students, so no need to worry about the form. Students will receive medals later this year.
Another busy term completed!
This term we've enjoyed weekly Maths groups, where we focus on Number and Addition strategies through games in differentiated groups. Games include Rainbow Fact Snap, Dominoes, Tessellation activities, Rainbow Fact Memory and Bingo and challenges include "Use three hands to make 8" etc. Students have also enjoyed explaining their thinking during reflection time of our Problem Solving tasks.
 

We were also very sad to farewell our classmate Cameron this term, however we all enjoyed the Australia themed party last week. Thank you to all families who contributed food or came along to celebrate!
This week we have continued developing our expression when reading, our acting skills as well as our confidence speaking in front of the class when performing "Reader's Theatre". All students are engaged during Guided Reading time and I am very proud of the continuous development of these important skills. Well done Room 6!
Happy holidays and enjoy some restful time with your families. I will see you back at school on Tuesday July 25th (as Monday is a Pupil Free Day). For Week 1's sharing, please bring in a picture or photo of your Favourite Place, ready for our Geography learning for Term 3. Thank you!   🙂 Ms. M
A bit of Positivity for your Wednesday…
(Click on photos to zoom in)

Week 6 and 7
This week all of our Guided Reading groups are tackling short plays after the success from Week 5. The Tassie Devils did an excellent job acting out "The Robots' Adventure", as did the Kangaroos acting out "All Mixed Up". Please see photos/video below. Stay tuned for the other reading groups later this week!
Kangaroos play, click here for a short video: IMG_9840-2hcvzaz
 Our fantastic Tassie Devils being brave in front of the class!
Estimating
This term we have begun estimating, which you may see in our weekly estimation challenges on the board in the mornings. You can encourage estimating at home by asking your child "to make a smart guess" and use their knowledge about the topic. E.g. "How many chips are in the packet do you think?…. Is 100 a smart guess? Why/why not." or "Do you think there's more or less than 20 pegs here" etc. Asking children to use their number sense and estimate is an important skill for life, as we cannot always count everything exactly. Remembering that an estimate doesn't have to be exactly correct either, as long as your number was close and you had a good reason for that guess.
Here is a great estimation website that you may like to look at, at home together: http://www.estimation180.com/
Happy Estimating!
Week 5 Learning
This week Room 6 have begun learning about time, specifically telling time to the hour and half hour and extending ourselves past this if we can. You can work on telling the time at home by encouraging reading both analogue and digital clocks, as well as making times (you can make a paper plate clock or draw one) and discussing am and pm. Converting times e.g. "How else can we say 4.30?" (half-past four) or asking what the time will be in an hour, 2 hours or half an hour's time, are also great discussion points. Timing activities are also a fun way to discuss time (e.g. "Do you think it will take less or more than a minute?…. Okay, it took 58 seconds, so what does that mean" etc.) See our fun new time game below.
This week the Platypuses and Cockatoos Guided Reading groups shared their wonderful reading skills by reading a play and singing a song from their reader. They did an excellent job and now everyone wants to read and perform a play to the class!
Thanks for all the generous morning tea and monetary donations for the Biggest Morning Tea, we had a lovely time sharing our food on the oval. (Click on the below picture to enlarge)
*If possible, please send in a baby photo as well as a photo of yourselves and your child's grandparents when they were a child. If there are no photos available, it is no problem, we will draw a picture instead. You can email them to me at: kate.burkandt520@schools.sa.edu.au  or bring them into class. Thank you for all your assistance with this!
Kate 🙂
____________________________________________________
What a busy term it has already been!
We have enjoyed learning about coding in Digital Technologies and have had fun treating each other like 'BeeBots' and giving directions to a location. Using terms like 'forwards', 'backwards', 'left' and 'right' as well ensuring we code the correct number of steps is important in coding.
We have also loved learning about the coins and their values in Maths. I have attached some warm-up mental routine questions often used in class, which you can also use at home. Not only are closed and open questions important to ask your child, but so are 'flip questions', where you think of a coin (or shape or number etc) and your child has to ask you questions to determine what you're thinking about.
Finally, we really enjoyed the National Simultaneous Story time, where we read "The Cow Tripped Over the Moon". Do you love our cow hats?!
Please send in a baby photo and one thing your child liked doing when they were a baby for our History Unit, before Week 6.
Thank you!
Kate 🙂
Please find below a link for our Term 2 Overview – it's going to be another busy term full of wonderful learning!
Term 2 Overview parents 2017-tzkq94
Welcome back to Term 2!
I hope you all had a restful break. We have had a fantastic week back and all students have been settled and ready for excellent learning. Next Friday 12th May, we are hosting the JP Assembly at 11am if you can attend – we would love to see you there!
This week in Maths we have been focusing on Rainbow Facts (Facts of 10) and Halves/Quarters. Please find below a poster on Rainbow Facts you can discuss with your child at home.
This week we have also enjoyed undertaking a Visualisation activity during Guided Reading, where students were not allowed to look at the pictures of "The Very Cranky Bear" and instead had to visualise or imagine the images in their head. All good readers imagine a little movie in their head whilst reading. Then students had to draw the pictures for the book using only their visualisations – and what a marvellous job they did! (Please click on the link below for some examples).
Poster 4 Rainbow Facts-29mqm30
Wow – Term 1 is already over!
We have been so busy this term, with swimming, Harmony Week, learning about noticing, number, skip counting and problem solving in Maths; learning how to write a recount and enjoying creative writing; learning new reading strategies and participating in weekly Guided Reading; learning about grammar rules and weekly spelling; learning
about family life in History; learning about relationships and trust in Child Protection; making and creating lots of things for Art and Design & Tech; challenging ourselves with a playground obstacle course plus amazing learning in Science, Drama, Italian, PE and Health. Plus of course, meeting new friends this year, getting used to Year 1 routines, "filling people's buckets" and giving compliments, using manners and challenging ourselves with our work wherever we can. WELL DONE ROOM 6 – YOU ARE ALL AMAZING LEARNERS!
Wishing everyone a Happy Easter and a lovely break over the school holidays – I hope you enjoy some time with your family 🙂   Kate
Thank you to all parents for your time and input with Student Interviews. It was great to share your child's learning and how they are going with achieving their goals. Next term we will be making new learning goals to aspire towards achieving.
If I were Queen / King for the day….
We enjoyed being creative and designing and making our own crowns and being kings and queens for the day. We also wrote about what we would do if we had royal power for the day. Enjoy the amusing responses below!
Other learning…
We have been discussing common and proper nouns and looking for these within a variety of texts. We have also been working on 'Chunky Monkey' reading strategy (chunking long words into smaller chunks/looking for smaller words within the long word) as well as reading with expression. We invited Mrs. Gallego to our class last week and read her the big book "A Party for the Alley Cats". She was really impressed with our expression, knowledge of ellipses, big & bold writing and putting inflections on our voice when necessary.
In Maths, we've continued to focus on skip counting (by 2's, 5's and 10's) – Please help with practising this at home also 🙂
* Don't forget our last day of Term 1 is next THURSDAY 13th APRIL – Have a safe and happy Easter and school holidays and we will see you back at school on Monday, 1st May. *
 ____________________
*DON'T FORGET TO BOOK AN INTERVIEW TIME WITH ME. Check the newsletter for login instructions or come and see me 🙂 Interviews are 27th March – 3rd April
Harmony Week Fun
Last week we had an excellent Harmony Week, including the parade where everyone looked excellent in their cultural dress and orange. The shared lunch on Thursday was delicious – thank you for the generous amount of food brought in. Congratulations to Amelia C who won a prize for the Harmony Week cookbook drawing cover competition. 🙂
We also enjoyed different presentations from a range of cultures, including a traditional Aboriginal dreaming story and a display of a range of boomerangs. We also learnt about the Sikh culture and why and how they wear turbans.
A special thank you to Jaxon's dad, Jerome who performed the Haka for us with Jaxon and Cameron. It was an amazing display!
Swimming Parent Help
Room 6 would LOVE your help for swimming next week (March 20th – 24th).
You will need to be at school at 1pm and able to help walk students to the ARC, as well as back to school. We will return at approximately 3pm.
You will not be required to help students in change rooms, however helping outside change rooms with shoes, socks and organising their property would be excellent.
Please come in and write your name on the list on the front door or email/speak to me.
Thanks, Kate
Wellbeing Performance
Room 6 students had a fantastic time at the performance hosted by Michael from Educational Incursions. He discussed letting go of worries at night and instead thinking about something to look forward to. He also discussed the importance of persistence and setting goals for ourselves. We enjoyed seeing Max get up on the stage and practise his air guitar!
 

Thursday 9th March – Wellbeing Performance
We have a Wellbeing performance at school tomorrow which costs students $5. If you have paid your school fees, then payment has also been received for this. I am still waiting for 7 students' payments. Please pay myself or the Finance Office on Thurs morning, so your child may attend. Notes in Communication Books for those who have not yet paid have also been sent home.
Important Dates
Friday 10th March – Student Free Day
Monday 13th March – Public Holiday
Tuesday 14th March – Harmony Week Parade – Dress up in your national costume or orange. Parade is at 9.15am – families welcome 🙂
——————————————————————–
Spelling Tests
As you would have seen, students have now started receiving weekly spelling words to practise at home and in class, ready for Friday's test. Of their 10 words, I test a selection of 5 words as well as test their knowledge of the week's sound, by dictating sentences, which the students write down. I am looking for correct spelling of the week's sound within the sentences, as well as capital letters, finger spaces and full stops. Practising writing sentences for homework and discussing the meanings of the week's words will also be beneficial for your child's learning.
Plants Within the Classroom
Parents / Caregivers – We're hoping you can help!
We would like to introduce more greenery/plants into our classroom. If you can donate a small plant that can survive being indoors (not much sunlight and lots of air conditioning) e.g. a succulent or bamboo plant, we would greatly appreciate it.
Not only will it make our classroom look beautiful, plants within the classroom also have the added benefit of improving student performance, adding to the calmness and ambience of the room, improving student wellbeing and teaching students responsibility, by needing to water them often. 🙂 Thank you in advance!
Term 1 Sharing Topics – click below
_______________________________________________
Swimming News
Forms came home on Monday night regarding Swimming. Room 6 will be attending in Week 8 – 20th-24th March. If you would like to attend, you do not need RAN training, however you may only help your own child get dressed after the lessons. Please see me if you need further clarification. We will also need volunteers to walk the class to the ARC – timetable to be put up closer to the date.
In class this week…
This week we have enjoyed discovering and learning about patterns, and have created our own repeating patterns where something occurs over and over again. We also enjoyed translating our patterns, e.g.
Red, blue, blue, yellow. Red, blue, blue, yellow.   or:
A,B,B,C.  A,B,B,C.
Come in and have a look at our amazing patterns on display.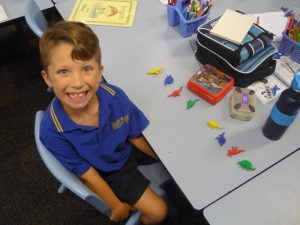 Our Year 3 Buddies
So far this term, we have enjoyed working with our Year 3 buddy class Ms. Harkins and Room 21. We have seen them twice for a Venn Diagram comparison of ourselves and also a prediction lesson. They are extremely helpful and kind and are wonderful mentors to have!
Helpful Pages
Australian Curriculum Information for Parents:
http://www.australiancurriculum.edu.au/resources-and-support/parent-information/information-sheets
How Parents Can Help with Reading (pdf):
Room 6 Term 1 Overview:
Welcome to Year 1 in Room 6!
We have thoroughly enjoyed meeting and working with each other over the last two weeks. You may have heard your children talking about 'filling buckets' which is a program designed to encourage children to be kind, give compliments and think about how they make others feel. They have loved giving each other compliments this week!
Don't forget next Wednesday (15th Feb) is Acquaintance Night (6 – 6.30pm) where I invite you to come to the classroom and learn how Room 6 will operate this year. Looking forward to seeing you there!
Ms. Kate Monaco