Term 2, Week 1
We have started our inquiry unit looking into the neighbouring countries of Australia. We used google maps to research and locate our neighbouring countries:
Students will be selecting a neighbouring country to research and create an informational powerpoint, which will be shared at the end of the term!
We have been doing guided drawing to draw the various characters from 'inside out'! The results have been amazing and the students have loved participating in guided drawing for Art.
Term 1, Week 6
For our narrative writing unit, students played a game where they came up with a setting, character and object for other students in the class. Students randomly selected the made up scenarios for their narratives and wrote a creative piece using them.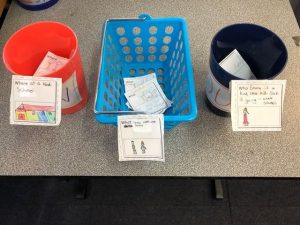 In art, students have started creating their own mandalas. Prior to creating them, students learned about the history of the mandala. Students carefully selected patterns and used their own ideas to complete them. We had some amazing finished results!
We have been getting to know our buddies better through interviewing our buddies. We have been helping our buddies create posters about themselves in the process. The class have enjoyed being role models to the reception students and having a greater sense of responsibility.
Term 1, Week 5
This week we joined up with Miss Taylor's class to complete a STEM project where we had to create a paper plane based on the wings of a flying animal. The class enjoyed working with other Year Three students in groups to complete this activity and were extremely engaged!
We had to plan our designs on whiteboards before making our designs with paper: