Week 2, Term Three
Welcome back everyone!
Hopefully parents and caregivers had a chance to get some time off during the school holidays too. 🙂
The end of last term was extremely busy- with year 3 classes completing work on their Aboriginal story poles that now sit in the newly redeveloped front office garden- make sure you check it out!
Above shows the initial stages of the design process- learning Aboriginal symbols from and Aboriginal artist.
We also wrapped up our work on geography- looking into Australia's neighbouring countries. We worked in groups with Mrs Harkins' class to research and create brochures on a neighbouring country. They then filmed travel videos (think 'Getaway' style) to convince others to visit their chosen country.
Stay tuned for your opportunity to see the finished videos!
Working in groups to sort out questions and information for their inquiry.
Kind regards,
Emma Talbot
Week 8, Term Two
We're winding up a busy term here in room 22. We've survived NAPLaN, looked into neighbouring countries, investigated ways recycled objects can be reused and begun Landcare to name a few of the things that have kept us occupied.
We also are in the fortunate position of being included in the redesign of the garden in front of the office. We've been working with an Aboriginal artist to create symbol stories that will go on Story Poles. These will be positioned as a main feature of our school and the students' stories will last long after they've graduated EMPS- very exciting!
As I mentioned above, we have been working with Mr Churchett and looking into our environment and learning about the local wildlife around us. Below are some pictures of our learning.
Week 1, Term Two
Welcome back everyone! I hope families and friends were able to have a relaxing break and are ready to go for term 2.
Emerald 22 Term 2 Overview:
HASS: We are beginning an inquiry unit on Australia's neighbouring countries and their diverse characteristics. The focus countries will be New Zealand, the Pacific Island nations, Papua New Guinea, Timor-Leste and Indonesia, as outlined in the Australian curriculum. Students will use their reading strategies of skimming & scanning, comprehension and summarising to create expositions to convince us why tourists should visit these places.
English:
We are finishing off our exposition work and will move on to information report writing at the end of the term.
Weekly spelling tests and targeted grammar and handwriting lessons will continue.
Guided reading will occur four times a week. Students work in small groups and take on specific roles. The texts will relate to our HASS topic and other relevant themes we are studying.
Maths: We are continuing on with multiplication and division. Following this will be a unit on fractions and then on to measurement. Homework will continue to reflect what we are studying in class as extra practise. Studyladder will be updated with current mathematical topics also.
Integrated Studies: Art, design and tech, media arts and health will work around our themes of the term, and cohesively with history, text types and reading.
Below is a link to the homework for this term. All children have a copy- but I thought an electronic copy couldn't hurt also!
If you would like any further information from me, my email is emma.talbot579@schools.sa.edu.au.
I look forward to working with these amazing children again this term!
Week 10
We're nearly there everyone!
Last week we had a very successful set of lessons at the ARC pool learning survival skills in the water. I was very impressed with the year three's ability to act responsibly on the walk to and from the centre, in the water and especially when changing and managing their belongings.
I have enjoyed meeting lots of parents over the last couple of weeks and setting goals and discussing accomplishments with students and their families.
Finally, a link you may find useful:
http://www.premiersreadingchallenge.sa.edu.au/prc/pages/books/y3-y5/
This will direct you to the Premier's Reading Challenge website, where you can check which books are on the list. Students have until September 8th to complete the challenge, with many already well on their way.
Kindest regards,
Emma Talbot
WEEK 8 Update
Hi families!
A very busy couple of weeks ahead with swimming and interviews before the end of term. I look forward to meeting with all of you and discussing your children.
We have been busy in the classroom too, and spent some time working with our buddy class, Room 10. We took the receptions on a scavenger hunt to find some important spots in the school. This enables the new students to orientate themselves with the school and our year threes to take on responsibility and pass on knowledge. They took this on enthusiastically and with very mature headsets.
Every day next week (week 9) we will be attending the ARC, leaving after recess to make our lesson at 11:30. We will be back at school at approximately 1:00pm.
Please make sure your child has the following with them:
Plastic bag for wet clothes
Bathers
Towel
Goggles (optional)
Umbrella, poncho etc in case of rain on some days.
Thanks,
Emma Talbot
WEEK 5 Update
We're almost half way through term one already! I hope families have settled well into the new school year.
Important Dates:
Week 6
Thursday: Whole school wellbeing performance.
Friday: Pupil Free day
Week 7: Harmony week.
Monday: Public Holiday
Tuesday: Harmony Day parade
Thursday: Shared lunch with Mrs Harkins class- note to follow shortly.
Week 9:
Swimming Week
Please return your child's swimming form if you haven't already done so 🙂 
A few of the things that have been going on in Room 22 are:
Weekly geography lessons with Mrs Harkins' class (see photos below). We are going on a 'tour around Australia'. Students choose at least two states or territories and investigate and investigate their history, geographical features and landmarks. More photos to come!
We have been learning place value in maths and tied this into an art lesson by looking into the dessert artist, Wayne Thiebaud's work. Students came up with their own four digit number and gave each place value a different dessert. they then used oil pastel, pencils and textas to draw their number.
Genius Hour is up and running! Most students have chosen the topic they are most passionate about and formulated an 'un-googleable'  question to investigate. I am looking forward to seeing what these young researchers and innovators come up with!
Week Three
Room 21 & 22 worked together in HASS to investigate natural and man-made landmarks of Australia. We then went outside to identify differences in features around the school.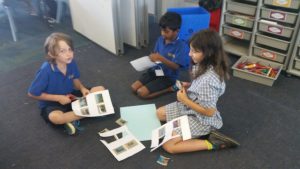 Dear parents and caregivers of Room 22,
My name is Ms Talbot and I will be your child's teacher this year. I have a background working in psychology and school counselling before becoming a primary school teacher a few years ago.
I adopt a growth mindset approach in our classroom where students are encouraged to take responsible risks and become confident in asking questions and making mistakes to increase their learning.
As a class, we will focus on positive behaviours and work together to achieve class goals and earn whole group rewards. Students in room 22 will feel an ownership over their learning and participate in decisions made that influence the running of the classroom.
This is my second year at East Marden Primary School. I was married in January and live with my husband, our cat Apollo and our Groodle puppy Harper Lee.
I look forward to meeting you all soon
Thank you,
Emma Talbot
emma.talbot579@schools.sa.edu.au