Week 2, Term 3
Room 21 – Term 3 – 2017
Dear Parents/Carers,
I hope you all had an enjoyable holiday and wish you a warm welcome back. Please look at the term 3 overview, which informs you of the learning that will take place, as well as our Class Blog.
Room 21 had the pleasure of meeting the author Phil Cummings on Wednesday 26th of July. He told humorous stories about his life, which are the inspiration for his books. Phil also provided useful writing tips, such as looking at the world, talking and listening to people, and writing ideas in a notebook.
Important reminders:
Premier's Reading Challenges are due before the 8th of September.  Thank you to those students who have handed them in already.  Extra forms are available in class.
Week 4: Science Week
Week 5:  Book Week
Open Classrooms – Monday 21st 2-3pm
Book Week Parade – Friday 25th August, 9:15-9:50am
Homework
There is a new Homework grid based on Character Strengths for students to work on. Please cover books with paper to protect them, and ensure they are returned every Thursday.
Kind Regards,
Caroline Harkins
Caroline Y3 T3 2017 EMPS_Learning and teaching overview-2b4u0ze
Maths
Room 21 have been sharing different strategies to record evidence of their thinking using multiplication.  Strategies include using arrays, groups, number-lines, repeated addition and skip counting.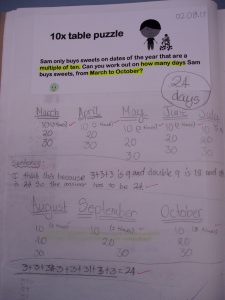 Literacy
Onomatopoeia
Onomatopoeic words represent sounds. We discussed and shared different onomatopoeic words in collaborative groups. We then did a carousel where we move round each table to look at others' ideas. After that we created a piece of onomatopoeia art! Authors and poets use onomatopoeia in their texts.
Landcare
Mr. Churchett taught us about how rocks, hills and soil are made. We got to look at, and hold many different types of rock!
Buddy Class
Room 21 shared our Character Strength cards with our buddies. We talked about what each strength meant and words which describe the strength. After that, we drew pictures to represent kindness.  This is the strength that our whole school are focusing on in week 2.
Positive Education
Gratitude Journals
It is very easy to focus on mistakes and the negative things that happen in life.  However, we are working on our character strength of gratitude.  The class record 3 precious things (gold nuggets) that they are grateful for. What are you grateful for in your life?
Week 10, Term 2
Room 21 have had an extremely busy, last two weeks finishing off a number of projects. These included our Inquiry into Australia's neighbouring countries,  painting poles for NAIDOC week, and completing a series of lessons as part of Positive Education.  Take a look at all our learning in the pictures below.
I hope all families have a relaxing and enjoyable break together!  I look forward to seeing you all next term.
Kind Regards,
Caroline Harkins
Inquiry Learning
'Tuning In' and 'Finding Out'
This part of the inquiry involved 'tuning in' to what the students already knew about the topic and what they wanted to know. They discussed where they might go to 'find out' information using different resources.
'Sorting Out'
The groups sorted out their questions into categories and sub-headings.  They used ICT and information texts to research answers.  They incorporated their reading strategies of note-taking and summarising, to write sentences using their own words.
'Going Further'
The information was then used to create information texts in the form of a brochure. The children needed to check that they answered their questions, and found out enough information.  In some cases further research was needed.  The students used ICT skills to find, copy, paste and crop relevant images to match their information.
'Making Conclusions'
The groups used their information to create an exposition using iMovie on the iPads. The aim was to use the share what they found out and convince an audience to visit their neighbouring country!
24 Character Strengths
we made predictions of what our top 5 character strengths would be
we matched the strengths to their corresponding pictures
in pairs or threes, we picked a character strength and wrote its definition and descriptive words
we took a photograph to depict our strength
these were turned into cards which we will share with our Buddy Class and Junior Primary classes
More info about character strengths and positive education can be found in the link below
Character Strengths Graphic-1pp2r8x
NAIDOC Week
---
Week 8, Term 2
Room 21 were very fortunate to have Ms. Dubrowsky and Tracy as our teachers.  We learned that indigenous peoples used oral language and symbols to pass on information.  Tracy showed us some of the wonderful artwork she created and what her symbols meant. Ms. Dubrowsky created a story and drew different symbols to show what her story was about.  We got to draw our own symbol stories and shared them with each other.
Nikki Carabetta – Indigeneous Artist
We were extremely excited to have Nikki Carabetta visit our class.  Nikki talked about the way she paints, and also the different types of symbols used all over Australia.  She then demonstrated how to create dot paintings using a range of tools to make big and small dots.  It was a lot of fun!
Positive Education
The class listened to a story called 'The Red Beast' by K.I. Al-Ghani.  The story explained that everyone has a sleeping red beast inside of them. Some people's beast is in a deep sleep and some are in a light sleep.  A boy called Rufus had a beast that woke up easily, and when it did its ears and eyes grew small but its mouth grew large.  We used the story to work out were Rufus' feelings would be on a "5 point scale".  The students all have individual 5 point scales to enable them to monitor their feelings.  If we need a break to calm our beast, we have a special corner with a red mat and blanket.  We take 10 minutes to send our beast back to sleep. 
First Aid
We learned about First Aid with Mr. Churchett.  He showed us different ways to use bandages depending on the injury.  He also had lots of specimen jars with fascinating things in them such as, a blue-ringed octopus, red back spider and a snake!
Summarising
'A summary is a shortened version of a text that contains all the main points.'
Summarising is an important skill to develop because it helps us to research, record and present information. We have been learning to identify and highlight the key words. Then take notes using dot points.  We use our notes to write sentences but we need to use our own words. We have been using our summarising skills in literacy and inquiry learning.  The different sources we have looked at include non-fiction texts and using ICT (laptops).
The pictures below show us viewing and listening to information about the pygmy seahorse.
---
Week 6, Term 2
Positive Education
Room 21 thought about and drew pictures of their 'Happy Place'.  Some of our places included the beach, in the garden, home and on holiday with family. Sometimes taking 3 deep breaths and thinking about our happy place helps us to calm down.  We also practice breathing during meditation activities.
Maths Problem Solving
The students needed to solve some challenging time problems together.  The clocks had a missing hand and so we had to use our prior knowledge to work out what the time could be.  We also had information to read and used our inferring strategies to answer questions.  The skills we used were listening, asking questions and giving reasons for our ideas.
Genius Hour
We were "tuning in" during Genius Hour.  Our tasks involved, looking at a picture to discuss what we could see, think and wonder.  We needed to cooperate as a team and note our answers using dot points.
Precious Water
We made a special trip to Lochiel Park to look at the water.  On our way we saw different types of plants, animals, birds and insects.  Samantha even spotted a koala hiding in a gum tree!
Mr. Churchett showed us how to use water catchers.  He made them from drinks bottles which had holes in the bottom and one hole at the top. The children filled the bottles by placing them in water. When they covered the top hole with their thumb they could lift the bottle up with the water still in it! When they removed their thumb the water flowed out.  What a clever invention.
Indigeneous Art
Room 21 responded to the "Footy" artwork created by Indigenous artists Dinni Kunoth Kemare and Josie Kunoth Petyare.  We noticed lots of different colours and objects in the pictures.  We then went on to create our own sporty artwork using oil pastels.
---
Week 4, Term 2
Paper-making Session
Room 21 were fortunate to have a paper-making workshop, led by artist Tracy, from Kesab.
Tracy demonstrated how to soak pieces of paper overnight before blending it into a pulp.  This pulp was added to water, and we used specially made frames to capture the pulp onto mesh.  This was carefully placed onto cotton fabric, which was then hung up to dry.  The students thoroughly enjoyed the session, and are looking forward to taking home some recycled paper.
Special thanks to the parents that came along to help, it was very much appreciated!
Maths
---
Week 3, Term 2
Welcome back to term 2.  Term 2, Learning and Teaching Overviews have been sent home with your child.  Room 21 have been busy learning and using skills in a range of subject areas.  Have a look at the photos below! 
Health and Wellbeing
Here are all the Year 3 classes socialising, and being active outdoors at Linear Park.  
Literacy – Inferring
Students worked collaboratively to use the reading strategy of inferring, using pictures.  We needed to use our prior knowledge, predict and make a "smart guess" when inferring.  
When inferring texts, readers need to look for clues and "read between the lines" to understand what the author implies, but does not state.
Inquiry Learning
We are working with students from Room 22 on our Geography Inquiry about Australia's neighbouring countries.  Groups worked interdependently, using atlases to locate and label countries on a map.
Landcare
Mr. Churchett visited our class for our first Landcare lesson "Why Save the Bush?"  He showed a DVD about different habitats, and a display about his research on Kangaroo Island. Ask your child about what they learned in Landcare!
Collaborative Art
Our classroom needed brightening up, so the children painted branches which now grace our library corner.
Students considered which colours should be used and took turns when painting.  Working collaboratively means that everyone's voice is heard, and there are no "put down's".
Room 21 are considering other ways in which we could organise our classroom and working environment.
---
Maths
Domino Number patterns
Mathematicians are pattern finders. We used dominoes to spot and create our own patterns, and used addition strategies to play a game.
---
Buddy Class
---
Swimming
Swimming consent forms will be handed out on Tuesday.  Please complete and return them to school as soon as possible. Room 21 will be swimming in week 8, Monday-Friday the 20th to 24th of March.  Our time is 12:30pm-1:30pm.  Please bring an extra snack as we won't be able to have lunch until we return to school after swimming.
Maths
In Maths  we played "Guess My Number".  The answer to the questions could only be yes or no.  The teacher chose a number and we had to ask good questions like:
Is it an even/odd number?
Is it greater than/less than…?
Is it between ___ and ___?
Does it have a ___ in the units/tens place?                     By Aaryaa, Gulnaaz and Saskia
Room 21 and Room 6 Buddies
This year our buddy class is Miss Monaco's Year 1 class.  We meet every even week on Monday's.  For the first week we did a Venn Diagram about us and our buddies.  We helped our buddies understand what a Venn diagram was and got to know each other by comparing our similarities and differences.
By Neha, Elisa and Inyoung
Today we watched a short film and used the strategy of prediction i.e. making a "smart guess".  We also discussed the Habit of Mind – Persistence.
Homework Rubric
---
Term 1 Overview
Rm21 Y3 T1 2017 EMPS_Learning and teaching overview
---
Room 21    Class Newsletter        31st of January 2017
Dear Parents/Caregivers,
I would like to wish you all a warm welcome to Year 3 in Room 21. My name is Caroline Harkins and I will be your child's teacher this year.  My husband, two sons and I emigrated from Scotland just over three years ago.  I have been teaching for nearly eight years, and prior to this worked as part of a Learning Support team, both in primary and secondary schools, for nine years.
In Year 3, students have greater responsibility for organisation of their resources such as packing/unpacking school bags, homework, lunch, recess, fruit snack, etc.
Please make sure that all your child's belongings are neatly labelled as they are easier to identify if misplaced.
At this stage your child will need:
A pencil case
A drink bottle (water only)
A school hat
A reader bag (available from the Finance Office)
The first two weeks will focus on the class getting to know each other to promote cohesion and wellbeing.  We will be establishing class rules, routines and there will be some testing to organise groups. (reading, spelling etc)
Children will be issued with a "My Home Reading" journal to record and encourage regular reading habits.  The reading journal has useful ideas on how to support your child's reading. Readers will be sent home in week 3 when the resource centre (library) has allocated class sets.  In the meantime, record the books that you have at home, or borrow some from your local library.
If your child is absent due to illness or for family reasons, please phone the school to inform the office.
A questionnaire has been sent home to help me to get to know your child and their needs better, these should be completed and returned as soon as possible please.
I am looking forward to an enjoyable and rewarding year working with your child and liaising with you.  If you have any questions or concerns please do not hesitate to contact me.  I am available before and after school except for Tuesday afternoons due to staff meetings. I can be contacted by email at:
caroline.harkins486@schools.sa.edu.au 
I may not reply to your email immediately but will endeavour to get in touch by the next day.
Kind Regards,
Caroline Harkins