Week 1, Term 4!
Wow, I can't believe this is our last term together- 9 weeks to go! The children have nearly completed their first year of school.When I think about week 1 of term 1 until now, the children have made huge progress in their learning and they should be proud of their achievements! Term 4 is a fun and busy term so I thought I would leave a few reminders here for you!
This Friday (week 1) our class will be presenting their art work at Assembly and Mr Costanzo class will be hosting the assembly.  In week 3 room 2 (our class) will be hosting the assembly. You are welcome to come along at 11.00am in the hall.
This Friday is also loud shirt day. The children are encouraged to come to school in a bright coloured t-shirt. Please read the flyer around the school for more information.
Next week, week 2 on Thursday is our very first Sport's Day. The children have been told what colour team they are. If you are still unsure come and see me.  The children are to arrive to school dressed in their Sport's Day colour.
For the next 2 weeks the children will be practising their health hustle to prepare for Sports day under the Cola at 8.45am (before the bell). Please ensure they arrive to school on time so that they don't miss out!
Below I have attached our sharing topics for this term and our term 4 learning overview. The children have also received a hard copy to take home.
reception sharing term 4 2017-22lpvl4
Happy Learning,
Christina.
Welcome to Term 3
I hope you all had an enjoyable school holiday break!  It has been lovely to see the children so excited about learning again in term 3.  Below you will find our sharing topics and overview for term 3, our inquiry focus this term will be on living things!
The children have already enjoyed learning new vocabulary words that we have added to our word wall, you may want to have a discussion about these words with them. Some of these words include: living, non-living, reproduce, camouflage, habitat, local, environment etc
reception sharing term 3 2017-1w1vjs3
Below you will find some photos of our inquiry play and math rotations that have begun this term.
During inquiry play the children have had opportunities to look through non-fiction books and find out more about living things. They were also able to create their own habitat for the mini beasts and discovered the different stages of a frogs life cycle. The students have also had lots of fun being an artist and practising their observational drawings of a Sun Flower.  They were fascinated by the many different unique parts that a Sun Flower has and the reasons why.  Later as a class we read a Non-Fiction book about Sun Flowers, they then labelled their own sunflower and wrote many interesting describing sentences.
Term 2 week 10
Can you believe that it is already the end of term 2!?
The children have made so much progress with their learning this term and should be feeling very proud of themselves! I look forward to seeing what they achieve next term and I hope you all enjoy these winter school holidays!
Below you will find some photos of the learning that has happened in the last few weeks of this term.
(Click on the photos to enlarge)
The children had a great time on our nature play incursion. They learnt how using nature to play and build can be lots of fun- that the possibilities of what you can do are never ending and free! We encourage the children to play in nature during the holidays using sticks, rocks, shells, leaves, gum nuts, mud etc

In maths, the children have been working on adding numbers 1-10 with automacity. They have learnt strategies such as counting on, starting with the bigger number, rainbow facts to 10 and doubles. The children used a range of hands on equipment and games to practise these strategies.

Here are some spelling and writing activities the children have enjoyed doing this term. The children have become creative with writing interesting describing sentences and have learnt how to label features of animals and places.
In spelling some children have practising their alphabet sounds with matching games and have been using a variety of materials to practise word families (an, at, et, en etc), sort and find short vowel sounds (a e i o u) and long vowel sounds (ai, ee, i.e., oa, ue). Some children have also discovered that there are a range of alternate spelling for these long vowel sounds. (ay, ea, y, u-e etc)
Next term the children will be bringing home a giraffe puppet called 'Geraldine'. They are to find, record/take photos of the sound we are learning in class. E.g. if we are learning the long a sound, they may find a gate at their house or a plate.  For inspiration you may want to look at the video of Geraldine long a sound on YouTube. The children have really enjoyed watching Geraldine and are excited to have a turn to take her home.
We have now come to an end of our 'places' inquiry and it has been lovely to see the children use a range of the language learnt and they have deepened the nature of their inquiry play.  The children did a great job of drawing their own map of the school and could clearly articulate using positional language where particular rooms were in our school.
Here is an example of the children using their mapping knowledge to create a map for the farm animals and zoo animals during inquiry play.

Our week 4 learning journey
Here are some photos of our inquiry play "My Place"
It has also been lovely to see the children getting a long well when creating places together or participating in imaginary play. We discussed as a class why everyone was happy and why it has been working well. The children responded saying:
We listened to each other
We shared
We didn't go up to the teacher, we solved the problem ourselves
We let others play with us.
Thank you to all the parents/caregivers who took the time to help their child build a model of their home. I know that they had lots of fun sharing this bonding time with you and they loved sharing their model with the class. I hope you had lots of fun too.
Maths rotations:
This week the children have continued to exploring with adding numbers and subitising to work on their automaticity of basic number facts.
The children also discussed more efficient ways to count on when adding two dices.
Here are some photos below
Week 3
Here are some reminders of some events coming up at East Marden.
DIARY DATES
Reading Parent Volunteer Workshop will be on the 24th of May 9am –10am
Public Holiday/ Queens Birthday is the 12th of June
Pupil Free Day on the 13th of June
FINANCE OFFICE IS OPEN
Mon—Thurs 8.30am-9.15am 2.45pm—3.15pm
Fri 8.30am-9.15am
Volunteering at East Marden Primary School 
This year we are implementing the new DECD Volunteer Policy (November 2016).  It is a mandatory policy and staff are required to adhere to the content. The policy provides clear guidelines about recruiting, inducting and managing volunteers so that they comply with relevant legislative and policy obligations.
The new process involves:
#Filling in a volunteer application form 
#Screening and assessing suitability of volunteers

 
#DCSI Screening (for regular volunteers) 
#RAN-EC Training (Online)

 
#Volunteer induction

 
#Any necessary workshops for volunteers Signing a volunteer agreement
THEN    FINALLY     VOLUNTEERING! 
If you would like to know further information about the policy it is available on the DECD website https://www.decd.sa.gov.au/doc/volunteer-policy
This term our inquiry is on 'places' particularly 'special places'. As part of the child protection curriculum we will also be looking at our safe places at school, home and in public places. If you could please also reinforce these safe places with your child at home.
Conversations may include:
*What to do if you can't see your parents after school. The children are to wait with the teacher or go to the front office if they can't find their teacher. They should not look for their parents out in the yard as it could be unsafe.
*Where to go if you can't find your parents at the shop
* Who to speak to if they are feeling unsafe and what their early warnings signs are to recognise when they feel unsafe.
*where there safe place is
*places you should never be alone without a trusted adult.
Week 2
This term we have been focusing on the tricky sounds called diagraphs.
After reading a story where we discovered lots of 'oa' sounds the children wrote down as many words they could think of that have the 'oa' sound.  Some children even extended their writing by writing a sentence with as many 'oa' words as they could.
Below are some photos of our inquiry play with a focus on developing oral language and designs through discovering and creating places.

Here are some photos of the hands on math activities we did last week.
These activities allow for multiple entry points to challenge or scaffold a range learners.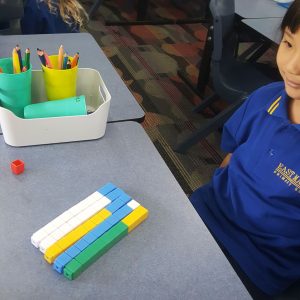 Welcome back!
Term 2 week 1
Welcome back everybody,
I hope you all had a fantastic Easter holiday break! It was great to see everybody again. The children were very excited to share about their holidays and had settled into the new term well, ready to learn!
Click on the link below to find an overview of what we will be learning this term.
reception overview term 2 2017-1whaowj
I have also attached this term's sharing topics incase you happen to misplace the sheet that was sent home in week 1.
reception sharing term 2 2017-1drjqdw
Here are some photos of the learning the children participated in this week:
Maths rotation:
Numicon towers:
Here the children discovered all the possible ways to add numbers together to make a particular number. They then gave a number sentence orally. E.g. 3 add 3 equals 6 and 4 add two equals 6
This term our inquiry topic is "My Place"
The children will be inquiring into many places that are special to them and to others.
A great way to encourage inquiry is through play.
Take a look at our inquiry play rotation:
Some of the activities included:
*STEM challenge: Build a home that cannot be blown down by the big bad wolf (my hairdryer).
*Technology: Build a place using Lego
*Art: search through books of homes around the world and paint this place
*Oral Language: create your own narrative with a partner using the dolls' house
*Fine motor: Make a couch for the house using play dough
Week 10
Take a look at some of the hands on learning we have been doing in our maths rotation.
Week 8 notes
This week on Monday your child will be bringing home a 'word box' book. In the past these have been words that children can sound out and blend to hear the word e.g. c-a-t. This year the word box words will be tricky sight words. These are words that cannot be 'sounded out' e.g. 'the'. These tricky oxford words will help the children progress with their reading. These words are to be practised with fluency and once the children can recognise them with automaticity, they will receive a new list. Some fun ways to practise these sight words may be to play games like snap or a memory game. The children also like to point them out in their reading books. It's also a good idea to initially sound the word out and look at why it's a tricky word. E.g. with the word 'we' we can hear the 'w' sound but the 'e' makes the letter name sound instead. Some children may also like to practise writing these words in their books and of course, these ideas are optional.
Reminders:
Next week, in week 9 our swimming week will begin and so will parent teacher interviews. Remember to book in your preferred time online. Your child would have received a form with the online code last week.
You will also receive a swimming reminder note this week with what to bring along.
Also, just another friendly reminder to return your family tree as soon as possible. Please come and see me if you did not receive one.
Thank you 🙂
Here are some photos of what we have been learning in maths in the past few weeks. We have been using a range of hands on materials and games to explore number. The children have been practising making number lines using numicon equipment, subitising collections, recognising digits and counting using one to one correspondence.
Week 5 notes
A reminder to all parents, that starting tomorrow, the 1st of March is independence day. This will continue each Wednesday.  The idea is to encourage the children to become independent and responsible learners. Parents, if you could please say goodbye to your child at the door. It will be your child's responsibility to unpack their bags, change their reader and get organised for the day.
Take a look at some of the learning we have been doing this week.
The children have continued to work hard at new challenges and are working together successfully.
Below are some photos during our literacy rotation. We have been practising our sounds (s a t p i n) and blending these sounds to make words. We have had lots of fun using the whiteboards, play dough, blocks and bottle lids.
We have also been learning about rhyming words. Rhyming words sound similiar because they have the same ending sound. We have been using puzzles, books, big books and poems to practise rhyming words. Ask your child about their rhyming name. They had lots of fun creating their own. E.g. Christina Ballerina.
Today in maths we practised ordering digits and understanding their value. We needed to count the correct amount of objects and match the value to the digit.
We also discovered that sometimes we don't need to count, we can visually see that there are 5 dots depending on how they are represented.
Hello and welcome to Christina Francisco's Room 2-reception classroom blog!
Here you will find notices, attachments, reminder notes and photos of what's been happening in our classroom.
If you would like to contact me personally you may organise to see me before school, after school or via email to organise a time. My email address is christina.francisco844@schools.sa.edu.au
I can't believe that we are now into week 4 of term 1.  The children have settled well into the classroom routines and structures and have already learnt many new things.
Here are just a few photos of what we've been up to in our classroom.
The students have really enjoyed using the Jolly Phonics program to learn their sounds. They have had opportunities to practise their letters using whiteboards and to show us what they know by recognising and drawing things that start with the sound they have learnt.

In maths the children have been exploring repeating patterns using a range of hands on equipment. They have been creating their own AB and AABB patterns.
You may find that you won't see a lot in the children's maths books but you will see photos of hands on learning on our classroom blog.
I have also attached below a term overview of what they children will be learning in term 1. On this overview you will see the days that the children have their specialist lessons. Note that the children's library borrowing day will be on Wednesdays, if you could please ensure that your child brings their book back before this day so that they can borrow a new book each week.
parent overview 2017 receptions-2
Homework:
On Monday the 20th of February the children brought home their reading book to practise for homework. The children are encouraged to independently change their reading book every day, however, they may want to keep the same book for two nights in a row to practice fluency when ready. Reading is our number one priority for homework,  remember that we want reading to be an enjoyable time for you and your child.  It is important to talk about the pictures on each page before reading the words and to make personal connections with the story.  The children will need your support with reading in the early stages.  In your child's yellow reading record book you will find some reading strategies to help your child with reading.
This is just a reminder that the Jolly Phonics homework is optional, we understand that your child may be tired after school/ participate in extra co-curricular activities outside of school.
Later on in the term, your child will be receiving oxford tricky words to take home.  These are words that cannot be 'sounded out' e.g. the word 'the', you can not hear the 't' 'h' and short 'e' sounds, you just need to look and learn the word. There will be more information regarding the 'tricky words' later in the term.
Thank you for your support.
Happy learning,
Warm Regards,
Mrs Christina Francisco