---
Term 1, 2018
Hi All,
Sorry it has been a few weeks since the blog has been updated. I have been waiting patiently for the bloggers, but I think with all of the short weeks and with swimming, they just haven't quite got there! So please find attached the photos from the past few weeks. I hope you have a lovely and relaxing holiday!
Kind Regards
Mrs Burt
Week 11
Genius Hour
For the last part of this term we had to do a passion project for Genius Hour. For those of you who don't know what Genius Hour is: we get to research anything we are passionate about or want to know more about for 1 hour a week (it does have to be approved by Mrs Burt)! We had to come up with a BIG question and then two little questions to help us drive our research. These had to be 'thick' questions. This means they can't be 'googleable' and need to have how or why at the beginning.
This was our favourite project and we had so much fun presenting them. We also had to make a product that went with our presentation and we could present it to the class however we chose! We had a range of different ideas of sharing our learning: posters, websites, powerpoints, photos and prezi! Please check out the products we made below.
We forgot to get a photo of the Arancini balls as we ate them so quickly! Ooops!
Persuasive Writing
This week we have been focusing on Persuasive writing. We were given a scenario and were required to choose whether we were for or against the scenario. We were given 20 minutes and had to make a 2 minute video in iMovie and then we presented our arguments to the classroom by using Airserver to display them on the interactive whiteboard.
On Thursday Mrs Burt's and Mr Halliday's classes got to go on a fun excursion. We went for a local walk to the ARC reserve. We were focusing on our wellbeing and social skills. It was lots of fun!
Week 10
Exhibition of Learning
This term we did our first project. It was a History project and was about Colonisation in Australia. We had to research a significant event, person and impact that it had to the ATSI peoples and had to make a poster. We really enjoyed this project. We found it very challenging to find the information and Mrs Burt taught us how to note take, paraphrase and write things in our own words. We then had an exhibition of learning and invited Years 4-7 to come and view our learning.
Week 8
This week we had swimming lessons at the ARC. Please find some photos below.
Week 5, 6 & 7
Hi my name is Rudra and I'm Neel. This week we are going to inform you about weeks 5, 6 & 7.
Week 7 – Harmony Week
Thursday: On Thursday Daniel, Eugene and Stella bought in a Korean game called Yoot (Yut) Nuri. We learnt how to play it and it was fun to watch. Stella won. We thought it was similar to trouble. Please see the images below.
Friday Week 7: On Friday we had Harmony day and we had an Indian dance and a Tai chi relaxation song and people performing.  We had a shared lunch which was delicious. We also got to watch some Indian dancing. At the end of the day we made friendship bracelets and we also got to have henna on our hand! Lastly on friday we worked with the whole year 5 cohort and put our History projects together! We are so proud of ourselves.
Week 6
Monday: On Monday we had P.E and we got to play dodge ball because there was a relief teacher!
Tuesday: On Tuesday we had science and maths. In science we learnt to write a hypothesis about a tall glass or a small glass extinguishing two candles.
Wednesday: On Wednesday we had a finishing of lesson to finish off name art, visual art and HASS draft as we were a little bit behind.
Thursday: On Thursday we had Music and in music we had to learn special cords a 6 and then an line going down. We also had Italian and in Italian we had to write a short statement about important people in Italy that may have died. We also had to write a short statement on a place in Italy that is still surviving.
Week 5
Monday: We had P.E and we practised our tennis skills. We also had HASS and we researched about our person or event. Please see the pictures below of us working on our HASS projects. This is what Inquiry looks like in our classroom.

Tuesday: On Tuesday we were being really quite and working really hard and the teacher got really impressed and proud of us. We also had science but a new teacher so we had to tell a little about our understanding.
Wednesday: On Wednesday we had our first spelling contract and we had quick writes. We also gave each other lots of feedback on writing historical narratives. We use the marking criteria to give feedback. We also wrote feedback that needs to use the hamburger model. Something kind and specific, something constructive, something helpful. Please see the pictures below.
Thursday: On Thursday we had Italian and music and in music we were a relief teacher and we learnt musical cords and  played a composition. In Italian we had to write at least one word in each Italian alphabet. In English we did some problem solving questions on different types of grammar. Mrs Burt used some formative assessment. This is our traffic light cards.
Friday: We were doing our visual art, which was inspired from our excursion to the Art Gallery. We are painting using Impressionism style.
---
Week 3 & 4
Hi This is Elyssa and Mehar from Rm 12 and we are going to tell you all about week 3 and 4 of term 1.
Fixed Mindset vs Growth Mindset
We started learning about a Growth Mindset, a growth mindset is changing your attitude positively to achieve a goal. Some ideas of what to say are: "If try hard I can achieve this", "I will learn from my mistakes" and "I won't give up". We applied this learning when creating our hand art.
Goal Setting
We created our goals. Our goals are what we aim to achieve by the end of term 1. We wrote our goals for behaviour, community, English, mathematics, learning skills and personal.
Quick Writes
We have been starting quick writes, quick writes are small writing pieces inspired by pictures prompt. We always have a learning intention and success criteria. These will help us improve our writing in the future, here's an example: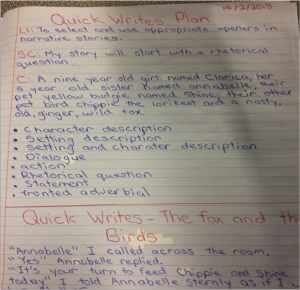 Spelling
We have been learning all about spelling with a new program called Words Their Way. We are looking at all the different sounds of letters and sounds in words. Here is some of our learning.
Excursion
This Friday We went on an excursion to the Migration Museum, Art gallery and Botanical gardens with Mr Oliver's class. First we walked through the art gallery and saw some amazing works, then our class went to the migration museum and looked at the history of English colonization and the history of the museum. We walked through the Botanical gardens and ate our lunch there.
Fantastic Fives
We worked with the Fantastic Fives on a group work project and had a scavenger hunt to do in the school. We then worked collaboratively with all 103 students to use our bodies to create E.M.P.S. It was lots of fun.
---
Week 1 & 2
Hi, this is Leni and Kelsey, we are students of room 12 Mrs Burt's class. We are writing the blog this week to help keep you up to date with all of the latest classroom activities.
In Room 12 we have been working hard on giving shout outs to each other. A shout out is when you notice someone doing something good. For example, you may see them showing character strengths, or helping someone with their work, you may also see them using their manners or just being a nice person in general. This is the wall where we pin up the shout outs that we receive. This is how many shout outs we have written so far. Can you count them all?
In table groups, we came up with a list of words or phrases that could be used as our classroom expectations. We then had to choose six expectations off of that list to then share with the class.
Buddies! We are working with our Room 1, which is a year 1 class. Mrs Tilbrook and Mrs McIntrye. We made getting to know you cubes with our buddies. It was lots of fun and we look forward to working with them this year!
Please see the pictures of us from our first day in Year 5!
---
Parents please find an Australian Curriculum link below: Information for parents. 
https://acaraweb.blob.core.windows.net/resources/Information_for_parents_years_5_-_6.pdf
---
Welcome to our Room 12 classroom blog.
Please find a digital copy of the term 1 classroom Newsletter. This blog will be updated regularly by the students in Room 12. We look forward to sharing our learning journey with you! I will continue to make regular contact with you also on ClassDojo. 
Thanks Hayley Burt