TERM 4, 2018
Hi all, this is Sofia and Mehar with Week 1&2, Term 4's Blog.
We hope you had a wonderful holidays, let's start off with a joke:
What lies in a pram and wiggles?
The answer is at the bottom of this post!
Welcome Mrs Joyce to rm 12! We hope you have a nice term with us!
Welcome Back Activity:
On Monday we did a activity where we expressed our holidays using only emoji's.It was a fun activity and opened our minds to other was of expressing emotion without using words.
English
Today in English we did Kenning poems. We had to come up with topics and  use describing words to create our poem.
Hass
In hass we did a mini inquiry for business and economics. We needed to research these questions:
1. What is a business?
2. What is an Entrepreneur?
After we researched these questions, we had to choose a popular Australian business and research questions relating to business and economics.
We had to include these in a PowerPoint. Then we got into our groups and started planning our main project for the term, opening up a stand and selling a product/service.
Let's do another joke:
What is an aliens favourite food?
Answers are at the bottom.
Math:
In math,we are learning about probability and statistics. For our mental routine, we used a graph and filled in the graph using the information we had. For our main lesson, we had to create a spinner which showed that the is a one in three chance of the spinner spinning on red. We had fun with this and we tried out different variations with justification.
English
In English we made a thesaurus, we made a thesaurus to put all of our wow words in it. We got a little booklet and we had to write down all the letters like a,b,c on about two pages for each letter in the alphabet. For the hard letters we only put one page for them like z. We hope we use our thesaurus to put in our wow words!
WE STARTED CINQUAIN POEMS!
Cinquain poems use similes to describe a object or person in a poem. It was a little bit difficult as we had to have a certain amount of syllables in a line but it got easier as we did more Cinquains.
Math:
In our mental routine we learnt that the probability of rolling a 7 out of 12 on a dice is higher than any other number. We rolled a die a minimum of 20 times to see if this was true. Many people did not get 7 as their most rolled number, which proves that this statement is not always true as any number can be rolled regardless of its probability.
Friday is a pupil free day so everyone can stay home or go to oshc!
In the afternoon on Monday we were training for sports day we did two activities which were space hoppers and hoop island. It was really fun to do. With the space hoppers we had to go around objects and with hoop island we only had to stay in the hoops but if we stepped out we had to do 20 star jumps. We had a lot of fun!
Answers for jokes
Joke one: a jelly baby
Joke two: a mars bar
Sincerely, Mehar and Sofia
Term 3
Week 3 & 4
Hi, this is Neel and Leni. We are presenting the week 3 and 4 blog to you. We hope you enjoy hearing about our learning experiences.
In maths, we have just finished our unit on volume and capacity. We are now starting to learn about measurement and mass. Our task on Tuesday was to get in groups of 4 or 5. We then had to design a table that would clearly show our investigation results. We had to choose 5 objects and estimate their weight. Using scales, we measured the accurate weight of those objects. We had to choose a 6th object and estimate how many of those we would need to match the equivalent weight of the other objects. This was a challenging task but we had fun.
Student interviews
WHAT HAVE YOU FOUND CHALLENGING?
Doing the HASS project on countries.
WHAT ARE 3 THINGS YOU HAVE LEARNT THIS WEEK?
I learnt that Canada is in the lowest 20% of babies that are born every year. I learnt how to use balance scales. I learnt what subordinate clauses are.
AN AH – HA MOMENT I HAD WAS?
Discovering a key piece of information that answered my HASS information in depth.
HASS Art 
As a part of our HASS project, we had to draw a 'keyhole' artwork. We are only allowed to use pencils and textas for this artwork. We had to research images of our country and choose a famous landmark or a landscape. We then had to draw a keyhole on a piece of paper and draw a landscape inside it. We are only up to the draft stage. We are all looking forward to continuing our artwork and doing our good copies.
Book Week
As a part of book week, our school is doing a treasure hunt. We had to scan the QR code with an iPad for our groups day and read the clue. Using the clue, we had to discover the place that it would lead us to. At the location, there was a treasure chest with another QR code inside it. That QR code had a clue to a book title. We had to guess the book title and write it down, the class with the most correct book title answers will win a prize. On Monday we had a book Week parade, most people dressed up and everyone looked amazing!
We hurt without moving, we poison without touching, we bear the truth and the lies but we are not to be judged by our size.
What am I?
Riddle (2):
What question can you ask that you can never answer yes to?
(Answers at bottom of page)
Camp
This week, the year fives are going on camp! We are all excited to go on camp and enjoy the fun activities. We interviewed Siena and asked her what her favourite activity was and why it was her favourite.
Siena – My favourite activity was the giant swing because it got your adrenaline pumping and it was thrilling. It also pushed some people out of their comfort zone.
We really appreciate this opportunity and hope we can have this experience again soon.
After camp, we had to do a camp reflection. We had to answer ten questions and then display them on an A4 sheet of paper to hang in the office. Here is an example of Filza's finished poster.

Camp Photos
Riddle(1): Words
Riddle (2): Are you asleep?
---
Week 2
Hello we are Eugene and June and we will be presenting the Term 3 Week 1&2 blog, Hope you like it.
Monday Week 2
We had P.E and had a modified game of AFL, and the not mashies team won
We also continued our math and  some people drew 3D shapes on isometric pieces of paper. We also did English and finished our procedures and paired up with someone and had to memorise their procedure and write it down.
Today's joke:
Why did the mouse go to the moon?
A: To get some 🧀.
Tuesday Week 2
We continued with the isometric paper and tried to draw cool designs with cubes and rectangular prisms. Then we had Italian and wrote down our hobbies and did a survey with the hobbies we had to ask them in Italian if they like rugby or soccer. We also had science and had it in our new stem classroom. Everyone was excited and is looking forward to having science lessons there.
Today's joke.
What is a slug?
A: A snail with a housing problem
Wednesday Week 2
Today we had our last lesson of math to finish our volume investigation and a lot of people finished and went on with the isometric paper. Most people were just drawing cool designs on their isometric piece of paper.
Today's joke:
Why did the computer cross the road?
A: Because it was programmed by the chicken
Thursday week 2
Today we did our geography project you had to research your question.
Then we did our gratitude journal and everybody had to write What went well, even better if, and 3 specks of gold.
Today's joke:
How do you confuse a dummy?
A: Put him in a circular room and say sit in a corner.
Week 1
Monday Week 1
On Monday we thought of expectations and wrote them down on an A3 piece of paper  in our table groups and shared them with the class on the floor when we were finished. We also did Maths and Mrs Burt introduced volume and capacity and did a mini test so Mrs Burt could see our prior knowledge on volume and capacity. We also had to answer questions in our math books on volume and capacity. We had P.E and started AFL, we had to do hand passing and then did some little kicks.
Today's joke:
Q: Why did the man laugh?
A: Because he heard something funny.
Tuesday Week 1
Today we had Italian and met our new Italian teacher, Signora Vento. We also had a math tasks. We did the math task with Mrs Jast's class. We had English and started to learn about procedures.
Today's joke:
A man walked into a cafe and ordered 2 slices of cake with 4 scoops of ice cream and chopped nuts on top. The waiter asked "would you want a cherry on top?" And the man replied, "no thank you I'm on a diet."
Wednesday Week 1 
Today we made our own procedure of how to do something and end with a final product. Some people did how to make a chatter box and other people did paper aeroplanes. We had a math test on the calendar there were 3 questions but they were really difficult.
Today's joke:
Why was the man giving his computer tissues?
A: Because it had a virus
Thursday Week 1
Today we had drama and got in to groups and did some planning of some skits.
We had guided reading and read our new guided reading books. We had math and the people in Sting in the Tail made 13×13 nets and had to fill them up with  mab blocks.
Today's joke:
Q: Why did the pirate cross the road
A: To get to the second hand shop
Friday Week 1
Today we started our interesting mandala. We also did Maths and started a new topic about nets and drawing shapes on isometric paper we are and learned how to draw cubes and rectangular prisms.
Today's joke:
Q:Why did the dummy get fired from the banana factory
A:Because he threw out all the bent ones
Thank you for reading the term 3 Week 1&2 blog
-Eugene And Junee
---
Term 2
Week 9 and 10
Hi I'm Siena and this is my friend Ashanti. We are the bloggers for week 9 and 10.
Week 10
Monday
This morning we had maths where most of us finished our good copy of the 2D floor plan of our playground. Filza found her time management challenging in this lesson. We have been looking at everyone's Natural Disaster models and they look SPECTACULAR!!!!
Thursday
 Today was our exhibition of learning, we were all so excited and it was such a fun way to present our learning to our families, peers, teachers and leadership team. All of our presentations were AMAZING!!! Kelsey's "Ah-Ha" moment was how her and her partner presented their model. Did you know around 700 people came to our exhibition?
Friday
Today is the last day of term 2! We are having lots of fun watching a movie, being creative and drawing or painting, playing on technology or having fun playing a board game.
Week 10
Monday
On Monday we had a PE lesson we played netball, we all really enjoyed it. We also had a double maths lesson where we learnt about area and perimeter. After that we had geography where we got time to work on our natural disaster models, it was a fun and creative lesson.
Tuesday
Today we had another double maths lesson in the morning were we got introduced to a new project which is self-directed. We also had a science lesson were we finally got to conduct our experiments. Ms Woods was thrilled with what we did in the lesson. When Mrs Burt heard the news she was delighted.
Wednesday
On Wednesday we had another maths lesson where most of us got closer to finishing our plan of the playground. We also had an Italian lesson where we finished the brick wall art.
Thursday
Today we finished our plan of our playground. Stella said that she used the character strength of hope in maths. After lunch, we had music. We all played a song together, it sounded great.
Friday
Today we had a Character Strength expo run by all the SWAT members. We also had a shared lunch. The boys brought savoury and the girls brought sweet. All of the food was delicious. I know we are looking forward to the last day of school.
We hope you all have a fantastic holiday and we will see you next term!
---
Week 7 and 8
Hi we are Daniel and Angelo and we will be you're bloggers for this fortnight!
Week 8
Monday
We had an awesome PE lesson and after that we started our amazing models for our HASS project!
Here are some pictures!
Later on in the day we started Perimeter and Area. In this lesson we learnt how to measure the perimeter and area of the shapes that we were given.
We also drafted our Hass explanation text.
Tuesday
Today we typed up our explanation texts for our Natural Disaster. For math we started a golf course and we had to finish it by Friday. We also had science.
Wednesday
Today on Wednesday we did Math and had an Italian with a new Italian teacher Mrs Terisa and we did a pop quiz and learnt about places in Italia. Then we saw Chris Killy and she taught us about spelling.
Thursday
Today we met with our buddy class. Across the school each buddy class was given a picture book which focused on a Character Strengths. Our picture book focused on Creativity. It was 'In my Room' By Jo Witek. It focused on using our imagination. We created an artwork using our creativity skills…. Our topic was, 'One black dot can be….'
Week 7
 Monday
Public holiday
Tuesday
Today we started learning about angles! We did a prior knowledge test on angles. After that we all went to the library. We also watched a video about sea turtles and we took dot points to plan making an explanation text. We also learnt in Science about how telescopes work using lenses and mirrors and about the Hubble space telescope.
Quiz 
In what year was the Hubble launched
A 2009
B1990
C1993
Answer at bottom of blog
Wednesday
On Wednesday we had a relief teacher called Ms Hele she played Simon says with us and it was very hard. In maths today day we learnt how to use a protractor with the protractor we had to measure all the angels in our name and that was hard. For english we finished of our sea turtle text after that we had Italian we learnt about weather and clothing. We used the Character Strength of perseverance today as we faced many challenges in math.
Thursday
Today we finished of our natural disaster research.
Yesterday  Leni and Sofia forgot to lock up the iPads and laptops so for math we figured out how much money we would need if some one broke into the class and stole all of our iPads and laptops. Then we worked how much a person working in a petrol station would need to work to repay the money and the answer was 52 weeks 2 days and 7 hours working full time without buying any food or paying taxes and bills. We all learnt a valuable lesson.
Joke
What is the difference between a horse and the weather
One is reined up and one rains down
By Jasmine, Daniel and Angelo
Friday 
Today we went to Assembly at 9.00am and saw some amazing learning. Then for math we sticky taped our white boards and measured the angles on the board with a protractor. For English we finished our sea turtle text and they were all very good. At the end of the day we finished our Kaleidoscope.
Answer to Quiz
B1990
---
Week 5 and 6
Hi our names are Jet and Stella and we are writing the class blog for Rm12 Mrs.Burts class. We are going to inform you of what we are doing at school this week.
Week 6
Monday
Today we had a new project so Mrs Burt introduced our new project about natural disasters and we did Fantastic Fives. After recess we had to do a draft copy of our student report comment and if we didn't do it today we had to do it for homework. After lunch, we started our new project on natural disasters and we had to research it.
Tuesday
Today we had to do our real copy of our student report comment. After recess we had science. Then we had quick writes which is writing a narrative. We had BTN, spelling and library.
Thursday
On Thursday we went to Parliament House on an excursion. We went there to learn about and see politics first hand. The best part was Questions Time! We got to sit in and listen to Question Time! The politicians are so argumentative! It was funny! I learnt that the legislative council was decorated with Australia's wildlife symbol of the Sturt Desert Pea, this was the Upper House and was the red house (it had red carpet on the floor). They used red carpet as red was considered more expensive. The other house was called the Legislative Assembly, and they had green carpet on the floor and the pattern was of wheat. My favourite memory was when a Member: Jayne Stinson (Child Protection member for Parliament) asked the opposition Child Protection Minister for Liberal: Rachel Sanderson a question and she said, "I won't be discussing private discussions I have with my department or anyone about ideas." Another highlight was that Vincent Tarzia showed us around Parliament House and he is our local MP. Written by Riley.
Friday
On Friday our highlight was having a go to make a draft of our Kaleidoscopes.
Week 5
Monday
Today we have English and Maths in the morning. In English we are learning about Explanation texts and we have to choose three things to highlight on an Explanation Report (e.g vocabulary, punctuation and grammar).
In maths we are learning about 3D objects. We also have P.E and we might be doing the beep test. We have Spelling before P.E. Then after lunch we have H.A.S.S in the afternoon.
Tuesday
Today we had H.A.S.S in the morning and we have to work on a Civics and Citizenship project on Scratch which is an online app where you can learn how to code. After recess we had Science and in Science we learnt about transparent, translucent and opaque objects.
Wednesday
Today, it was our last change to finish off our HASS project because we had 4 weeks to do it and we should be finished. After recess we went to the gym to listen to a high school band from Norwood Morialta and there was two saxophone players one keyboard player guitarists singers a drummer violin players a cello player and a trombone player. We also had English and Maths in the morning.
Thursday
Today we had spelling and guided writing which is English and we wrote an explanation text by recess. Then we had quick writes, we wrote this blog. In addition, in quick writes, we have to write a story in 15mins. Next, we are going to do maths. Then we have lunch and then music then fitness.
Friday
In the morning, we presented our Scratch project and after recess we continued to do our project presentation. We had a test to see if our knowledge with a piece of paper which would go to our grade. Our day was struggling because we had to fit everything in because we had our project to present.
---
Week 3 and 4
Hello our names are Bethany and Riley and we will be bringing you the blog for weeks 3 and 4 of Term 2.
Monday, Week 4
We did Civics and most of the class got stuff done. That afternoon there was festival choir so two groups didn't get much done.
Tuesday, Week 4
We did Civics again in the morning so we had more time to work on SCRATCH. Civics and Citizenship is due in Week 5.
Wednesday, Week 4
We did more Civics and we had Ms Duddy for half the day. We had Ms Duddy for Italian too.
Thursday, Week 4
We had BTN and Music after lunch play and we had English and Maths in the morning.
Friday, Week 4
After lunch we had STEM and we got into groups of 3, but no one from our class could be in our group. The groups have to make Kaleidoscopes with no glass or mirrors. It will be a challenge, but we're up to it!
Today's joke:    Theme: Chickens
Why did the chicken cross the road?
To knock the dumby's door.
Knock! Knock!
Who's there?
(The chicken)
Monday, Week 3
We set up the tables for NAPLAN in lines. We did Civics after lunch. (This is just what we can remember from last Monday after deleting the first copy).
Tuesday, Week 3
We had NAPLAN for English and Writing. English was in first and second lessons Writing was in third and fourth lessons. Fifth lesson and sixth lesson we watched Dunston Checks In as we were really tired and had worked hard for two tests (It's a movie!).
Wednesday, Week 3
We did NAPLAN reading and most of the class found out something new.
Today's joke:   Theme: NAPLAN
You: What does NAPLAN stand for? And what are your life abilities?
Pineapple: NAPLAN stands for Never Ask Pineapples Life Abilities… Never!
Thursday, Week 3
We did Maths NAPLAN and it was the hardest out of all of them. Mrs Burt said so too!
Thank you for reading the blog.
Bethany
Riley
---
Week 1 and 2
Hello! This is Tharan and Sofia
Today we will present the week 1 and 2 blog, we hope you like it!
BODMAS
In maths we are learning about BODMAS. BODMAS stands for brackets, order, division, multiplication, addition, subtraction. A BODMAS sum looks like this 12+(36-6). There is a specific order that you need to complete these sums.
Civics and citizenship H.A.S.S project
In class we are doing a civics and citizenship project for H.A.S.S, in this project we get to go on scratch. Scratch is a coding system. With scratch we are going to make new country's and describe your new country after you have done it you put in some more code if you like.
Fantastic fives 
In fantastic 5 we have been doing tessellation art. Tessellation art is when we get a little square and cut out one part of your square and stick it on the other side. When you have finished cutting out your square you use a pencil to trace your stencil on to the paper. You connect the shape together.
English
In English we have been writing narratives with our narratives we have done posters of what we need in a narrative and also writing one to. We could choose what we wanted to write about. Some people used their imagination to create their story with their partner.
Quick writes
In quick writes the class has been given a picture. The students have to be creative and write about the picture in ten minutes. Usually the picture is very fun to write about. Our class is very creative in writing. We like Quick writes as a task for our class.
NAPLAN
In class we are preparing for NAPLAN. NAPLAN is a test for 3,5,7. We are doing practise tests. In NAPLAN we have lost of tests there is a maths test, spelling test, reading test and writing test.
Guided Reading
We have been doing lots of Guided Reading in our groups. We have a two week rotation. Sometimes we do Book Club, Learning Centre, Wheelers, Independent study or Guided Reading.
Buddies
This week we worked with our Buddy class. We did a STEM cup challenge and it was fun!
---
Term 1, 2018
Hi All,
Sorry it has been a few weeks since the blog has been updated. I have been waiting patiently for the bloggers, but I think with all of the short weeks and with swimming, they just haven't quite got there! So please find attached the photos from the past few weeks. I hope you have a lovely and relaxing holiday!
Kind Regards
Mrs Burt
Week 11
Colour Run and the last day of school
Genius Hour
For the last part of this term we had to do a passion project for Genius Hour. For those of you who don't know what Genius Hour is: we get to research anything we are passionate about or want to know more about for 1 hour a week (it does have to be approved by Mrs Burt)! We had to come up with a BIG question and then two little questions to help us drive our research. These had to be 'thick' questions. This means they can't be 'googleable' and need to have how or why at the beginning.
This was our favourite project and we had so much fun presenting them. We also had to make a product that went with our presentation and we could present it to the class however we chose! We had a range of different ideas of sharing our learning: posters, websites, powerpoints, photos and prezi! Please check out the products we made below.
We forgot to get a photo of the Arancini balls as we ate them so quickly! Ooops!
Persuasive Writing
This week we have been focusing on Persuasive writing. We were given a scenario and were required to choose whether we were for or against the scenario. We were given 20 minutes and had to make a 2 minute video in iMovie and then we presented our arguments to the classroom by using Airserver to display them on the interactive whiteboard.
On Thursday Mrs Burt's and Mr Halliday's classes got to go on a fun excursion. We went for a local walk to the ARC reserve. We were focusing on our wellbeing and social skills. It was lots of fun!
Week 10
Exhibition of Learning
This term we did our first project. It was a History project and was about Colonisation in Australia. We had to research a significant event, person and impact that it had to the ATSI peoples and had to make a poster. We really enjoyed this project. We found it very challenging to find the information and Mrs Burt taught us how to note take, paraphrase and write things in our own words. We then had an exhibition of learning and invited Years 4-7 to come and view our learning.
Week 8
This week we had swimming lessons at the ARC. Please find some photos below.
Week 5, 6 & 7
Hi my name is Rudra and I'm Neel. This week we are going to inform you about weeks 5, 6 & 7.
Week 7 – Harmony Week
Thursday: On Thursday Daniel, Eugene and Stella bought in a Korean game called Yoot (Yut) Nuri. We learnt how to play it and it was fun to watch. Stella won. We thought it was similar to trouble. Please see the images below.
Friday Week 7: On Friday we had Harmony day and we had an Indian dance and a Tai chi relaxation song and people performing.  We had a shared lunch which was delicious. We also got to watch some Indian dancing. At the end of the day we made friendship bracelets and we also got to have henna on our hand! Lastly on friday we worked with the whole year 5 cohort and put our History projects together! We are so proud of ourselves.
Week 6
Monday: On Monday we had P.E and we got to play dodge ball because there was a relief teacher!
Tuesday: On Tuesday we had science and maths. In science we learnt to write a hypothesis about a tall glass or a small glass extinguishing two candles.
Wednesday: On Wednesday we had a finishing of lesson to finish off name art, visual art and HASS draft as we were a little bit behind.
Thursday: On Thursday we had Music and in music we had to learn special cords a 6 and then an line going down. We also had Italian and in Italian we had to write a short statement about important people in Italy that may have died. We also had to write a short statement on a place in Italy that is still surviving.
Week 5
Monday: We had P.E and we practised our tennis skills. We also had HASS and we researched about our person or event. Please see the pictures below of us working on our HASS projects. This is what Inquiry looks like in our classroom.

Tuesday: On Tuesday we were being really quite and working really hard and the teacher got really impressed and proud of us. We also had science but a new teacher so we had to tell a little about our understanding.
Wednesday: On Wednesday we had our first spelling contract and we had quick writes. We also gave each other lots of feedback on writing historical narratives. We use the marking criteria to give feedback. We also wrote feedback that needs to use the hamburger model. Something kind and specific, something constructive, something helpful. Please see the pictures below.
Thursday: On Thursday we had Italian and music and in music we were a relief teacher and we learnt musical cords and  played a composition. In Italian we had to write at least one word in each Italian alphabet. In English we did some problem solving questions on different types of grammar. Mrs Burt used some formative assessment. This is our traffic light cards.
Friday: We were doing our visual art, which was inspired from our excursion to the Art Gallery. We are painting using Impressionism style.
---
Week 3 & 4
Hi This is Elyssa and Mehar from Rm 12 and we are going to tell you all about week 3 and 4 of term 1.
Fixed Mindset vs Growth Mindset
We started learning about a Growth Mindset, a growth mindset is changing your attitude positively to achieve a goal. Some ideas of what to say are: "If try hard I can achieve this", "I will learn from my mistakes" and "I won't give up". We applied this learning when creating our hand art.
Goal Setting
We created our goals. Our goals are what we aim to achieve by the end of term 1. We wrote our goals for behaviour, community, English, mathematics, learning skills and personal.
Quick Writes
We have been starting quick writes, quick writes are small writing pieces inspired by pictures prompt. We always have a learning intention and success criteria. These will help us improve our writing in the future, here's an example: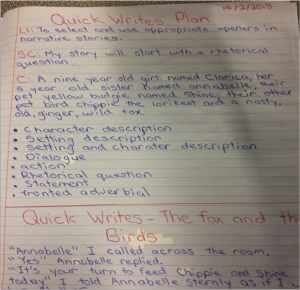 Spelling
We have been learning all about spelling with a new program called Words Their Way. We are looking at all the different sounds of letters and sounds in words. Here is some of our learning.
Excursion
This Friday We went on an excursion to the Migration Museum, Art gallery and Botanical gardens with Mr Oliver's class. First we walked through the art gallery and saw some amazing works, then our class went to the migration museum and looked at the history of English colonization and the history of the museum. We walked through the Botanical gardens and ate our lunch there.
Fantastic Fives
We worked with the Fantastic Fives on a group work project and had a scavenger hunt to do in the school. We then worked collaboratively with all 103 students to use our bodies to create E.M.P.S. It was lots of fun.
---
Week 1 & 2
Hi, this is Leni and Kelsey, we are students of room 12 Mrs Burt's class. We are writing the blog this week to help keep you up to date with all of the latest classroom activities.
In Room 12 we have been working hard on giving shout outs to each other. A shout out is when you notice someone doing something good. For example, you may see them showing character strengths, or helping someone with their work, you may also see them using their manners or just being a nice person in general. This is the wall where we pin up the shout outs that we receive. This is how many shout outs we have written so far. Can you count them all?
In table groups, we came up with a list of words or phrases that could be used as our classroom expectations. We then had to choose six expectations off of that list to then share with the class.
Buddies! We are working with our Room 1, which is a year 1 class. Mrs Tilbrook and Mrs McIntrye. We made getting to know you cubes with our buddies. It was lots of fun and we look forward to working with them this year!
---
Parents please find an Australian Curriculum link below: Information for parents. 
https://acaraweb.blob.core.windows.net/resources/Information_for_parents_years_5_-_6.pdf
---
Welcome to our Room 12 classroom blog.
Please find a digital copy of the term 1 classroom Newsletter. This blog will be updated regularly by the students in Room 12. We look forward to sharing our learning journey with you! I will continue to make regular contact with you also on ClassDojo. 
Thanks Hayley Burt